Daemnos: The Demon Souls Series – Book 1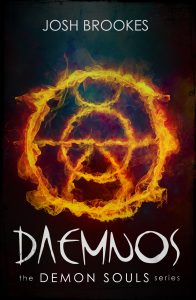 Winding up in the hands of a shadowy organisation known as the Daemonium, Badrick Varner learns a terrible truth.
Demons are real, and they are trapped within the souls of humans.
As host to his own hellspawn, Badrick must fight to control the darkness within him and use his newly discovered powers for the benefit of mankind, or face eternal imprisonment.
But when evil is your only ally, can good truly prevail?
Click here for Free PDF Download of Book 1:
Daemnos - The Demon Souls Series Book 1 (355 downloads)
Some final words…
As this book is self published and I lack the advertising and marketing budget of more traditionally published books, my main form of advertising comes from you guys (the readers).
So please, if you liked, loved, hated, despised or felt/thought anything about this book at all, leave me a review and let me and others know what you thought: